The Khmers knew how to do things dramatically.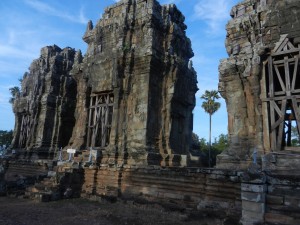 The temple on Phnom Krom was built by an early Khmer king, Yasovarman I, or his court officials around 900 CE. He founded the city of Angkor and established ideas that the Khmers unified themselves with for the next 500 years. Exploring it will take you into some of Angkor Wat's cultural foundations.
But these foundations require climbing to explore. Phnom Krom is a 449 ft. high hill. Yashovarman built his royal cult temple, Phnom Bakheng, on a hill in the middle of Angkor. So Phnom Krom echoed Angkor's main shrine. It must have had special meaning.
In royal Khmer fashion, the vision that inspired the temple on Phnom Krom was big. The central tower was dedicated to Shiva. Most Khmer kings who ruled before Angkor Wat's builder worshiped him. Khmers and many other Southeast Asians associated him with their native ideas of spirits on hills and of the land's power to generate life. The north tower honors Vishnu, and the south shrine is for Brahma. So all 3 gods of the Hindu Trimurti stand together and crown the hill.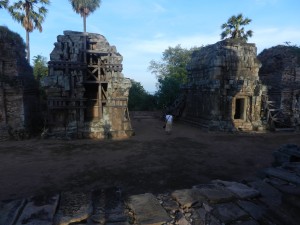 The above shot's from the central platform. Four buildings called libraries face it. Ten rectangular buildings surround these structures. A wall with a gatehouse in each cardinal direction encloses all of these buildings. So Yasovarman must have thought that the Trimurti's cosmic order is symmetrical.
But it's also supremely elegant.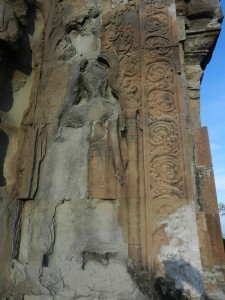 Faded sculpture adorns the 3 central shrines.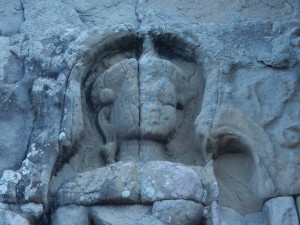 Guardians flank the doorways. They're aloof and aristocratic, like the guardians on Preah Ko. Yasovarman's father, Indravarman I, built Preah Ko. So father and son were establishing an image of unaffected strength that they wanted to rule their growing empire with. King Suryavarman II followed in their footsteps with his self portraits on Angkor Wat.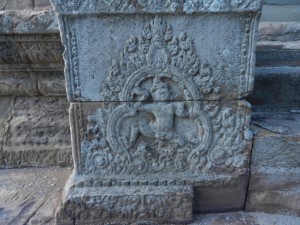 Dancers surrounded by dense vegetal patterns deck the base of the central platform.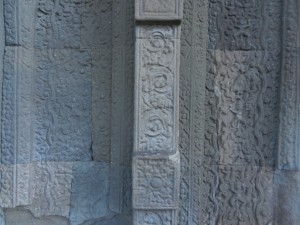 Thick vegetal motifs also grace Phnom Krom's false doors.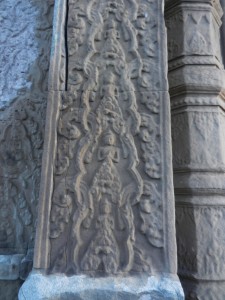 And they rise up the sides of the shrines. Resembling flames, they seem to exude energy. But their elegance tempers Shiva's destructive power.
Preah Ko also has these features, so Yasovarman was imitating his father by balancing alpha-male force with refinement. But what makes the temple on Phnom Krom special is its location.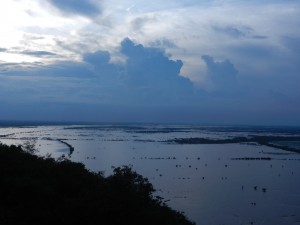 Phnom Krom rises from a flat plain–seemingly from out of nowhere, as though it's full of sacred power. I took the above shot during the rainy season, when the hill borders Tonle Sap. The water rises and inundates the rice fields. So the temple connected Yashovarman with the forces of nature that fed his empire's growing population. Thai art often avoids stating things too directly, but Khmer kings came out with it.
And Yashovarman's statement was full of magic, which I'll show you in the next post.