Home
This site is about new perspectives that can enhance your well-being and boost your creativity. It looks into two areas:
Your career, particularly résumé writing

World cultures
Both are more related than you might think because:
They're about expanding horizons.
Both enhance each other when you explore them at the same time.
So there are two sections in this website. One is about résumés. Many people today hire professional résumé writers and use online résumé writing software, so what might seem outstanding is now often merely average. An effective résumé needs extra creativity. So you can go to this site's résumé writing page and find insights about making your résumé stand out from the others in this crowded job market in which an average of 250 people apply for each opening.
The second section is about new perspectives of world cultures. In my 28 years of studying them I've found that the world's cultural wealth is a boundless treasure chest that can inspire one creative insight after another, and most of it's little-known.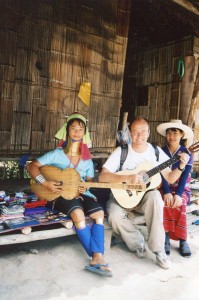 You can explore this section on two levels:
1. You can read my blog's articles. They're quickly digestible views of many of the world's most fascinating cultures. In each post I mix analysis of a society's unique wealth with several photos. I took all the pictures (except for the few of my mug).
You can read the blog in many ways. Some people might want to focus on one culture and read all the articles about it. That's fine, but a great way to approach this blog is to compare many world-views. If you read it in chronological order, you'll experience a flight around the world that will open up new and more rewarding ways to perceive it.
2. The second soars even higher. It's in the "books" page of this website, where I introduce my new book, which answers the question: What view of the world will allow you to reach your full potential for happiness and creativity? I stopped writing blog articles in 2013 in order to focus more on this book and its sequel, and I've been enjoying the greater amount of creativity that the books require. The blog is piecemeal and in various styles, but the books synthesize an unusual combination of places and times into the most rewarding perspective that I've found of our whole world. You can order my first book on Amazon.
Both sections of this website complement each other. They're both about enhanced perspectives and creativity. The first applies to your résumé and career so you can land the job that you'll find the most fulfilling. The second is about finding more fulfillment in the larger cultural environment that shapes our thinking and identities. If you expand your horizons in both areas at the same time, you can have an endless love affair with the world.
Brian Holihan