I just realized that I haven't shared this story before.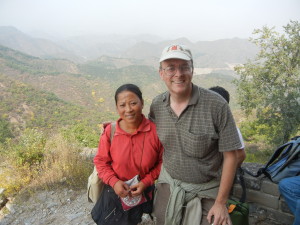 I just told it to a new friend, so I'll share it here, since it happened when my homepage photo was taken. There were a lot of local farmers selling things at the Great Wall, and most were women who were rather elderly. Some were following us up the ridge and then along the wall, even though it was a two-hour hike. I felt sorry for them because they looked desperate for a few Yuan. I was with three others and we were the fastest of all the visitors because we wanted time to enjoy the top, and I was looking forward to playing my little travel guitar there.
     One local woman kept following us, and she was gasping for breath. I told her many times in Mandarin, "You don't need to follow us. I'll come to your shop when I return. I promise." I lost sight of her and figured that she went back down.
     We four made it and I took the guitar out of its case, but I couldn't find the pick. I picked with my fingers, but the other three people were in their twenties and I had promised to play rock. Suddenly the local woman appeared and she handed me the pick! How did she ever see it? Because it was white, it couldn't have stood out much from the light grey rubble. We were too far ahead of her to be seen, so she couldn't have had any idea that I had lost it.  I gave her a hug and played a couple of slow, romantic jazz songs just for her. That really summed up the women's situations for me at the Great Wall of China–their hardships and their steadfastness. They impressed me as much as the monument did.