The place was buzzing as soon as I got out of my tuk tuk.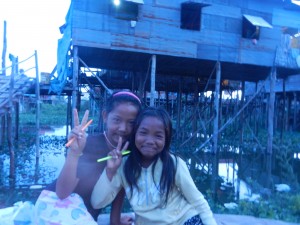 The rainy season was in full majesty. It was late afternoon. People were finishing their work for the day and meeting up for dinner, and they brought the stones in the old Khmer monuments to life.
The sparkling waters that surrounded us, the billowing rainclouds above us and the triumphant sun that had just come out seemed to put everyone in a good mood. I was about to explore the temple on Phnom Krom, which the founder of Angkor built around 900 CE. The bubbling emotions I saw in the village around the bottom of the hill might have been similar to ancient Khmers' exultation when the rains came.
Well, not exactly. Half way up the hill, I met a Korean civil engineer and his local coworkers. They were sitting under a pavilion and the Korean was doing what many Korean men love to do: drinking lots of beer. Koreans have been called "The Irish of Asia." As his words flowed like a monsoon, he told me that I should move to Cambodia, teach English and find a local girlfriend. Sorry for not publishing the photo I took of him, but I think he'd like his merriment to be private.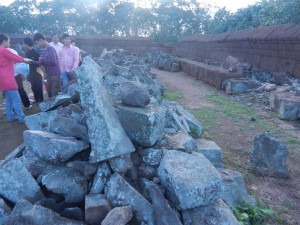 The many Cambodians climbing the hill were more dignified. But they were just as friendly as they explored their great heritage.
Lots of kids were playing when I got back down to the village.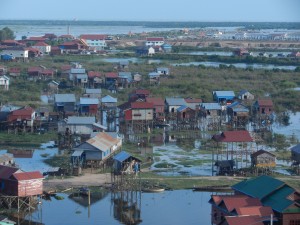 The views matched everyone's festive mood.
Phnom Krom and most other great Khmer temples were built to establish the Khmer empire's political and sacred order. Some of my past posts examined how their forms and the ideologies behind them converged (Phnom Bakheng is a good example). But these temples had an inner dimension too.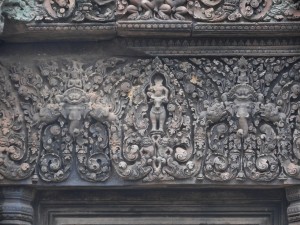 The profuse forms of temples and their sculpture (like Banteay Srei's in the above photo), and–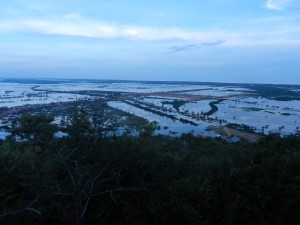 the sacred power that infuses the natural environment when the rains come and Tonle Sap overflows encourage emotional exuberance (if you want to see how glorious Cambodia's natural environment is when you live in it, check out its monsoons in Angkor Wat's plumbing). Khmer art wasn't just fed from the top-down, it was felt. Nature's abundance, art's exuberance, and people's eagerness to celebrate the good times reinforced each other then, and they still do.
I found Cambodians amazingly warm and cheerful for people who live in a country with so much poverty, which corrupt politicians suck dry like vipers. They're eager for  more good times. Spread the word  about their great heritage and get as many people interested in them as you can. Give them more reasons to celebrate and join the fun.