One afternoon in Chennai, a man named Subramaniam invited me and four other classmates to his mom's apartment for lunch. Two were young southern Indian men, and the others were young women–one Swiss and the other Belgian.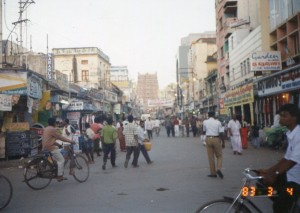 We sat in a circle in the front room and chatted for a while. But Subramaniam had something up his sleeve that I didn't expect.
He wanted each person to sing a song before lunch. The women and I would perform first because we were the guests. With a voice that's not quite Sinatra's, I felt self conscious. But when the Indian men sang, each was transported into a different world. With eyes closed, bodies swaying, and hands waving, they were completely absorbed in the emotion.
This preference for untrammeled outpourings of feelings is ancient. The Bhagavad Gita stressed devotion as the way to divinity. Ancient theories of the theater and painting were also based on free flows of emotion.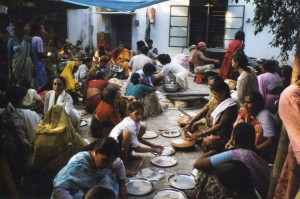 You regularly experience these ancient currents in modern life. The large extended families in dense neighborhoods encourage people to extend feelings to others. The night I arrived in India for the second time, I awoke with diarrhea. I trotted across the grounds of the school to the toilets and was intercepted by two security guards. I told them why I was up, and they suddenly became worried mothers.
"I'm sure it's not from anything I ate or drank because I just got here."
"But when someone says he has diarrhea in India it scares us because we think he ate something that gave him an infection."
"Thanks, but I'm sure I'll be fine."
I was by morning. But at breakfast, in the middle of a big crowd, one of the guards loudly asked, "How is your diarrhea?" I didn't want a bunch of people overhearing and smothering me with care, but in traditional India, the flow of emotions doesn't stop at the boundaries of the nuclear family. If you go there, kiss your personal space goodbye.
This preference for absorption in the emotion is different from the mellowness from Thai emotional life. But it has very multidimensional roots which include religious devotion, ancient theories of art, and life in extended families in crowded environments. The emotional patterns that a society emphasizes reflect enough cultural wealth to inspire religious devotion.