The court of China's Late Song Dynasty settled by Hangzhou's West Lake. Its ethereal beauty inspired some of the most refined landscape painting in Chinese history. So I thought I'd offend the Immortals with some good old sloppy rock guitar.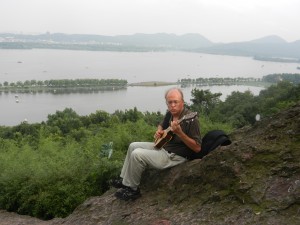 When I began to put my guitar back in the case, I actually heard a voice from above. But it was a lot more pleasant than an angry spirit's.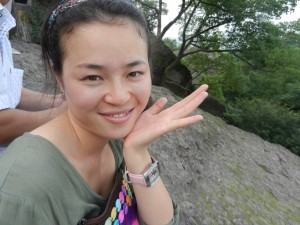 This youthful spirit  was  perching on the rock a little bit above me.
She was kind enough to compliment my playing. How could I resist releasing a few more tunes to the winds? She then suggested that we walk by the lake and then have dinner.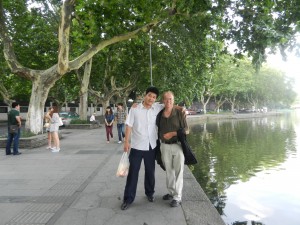 She was with a man, who turned out to be the door guard at the apartment building she lived in. They were enjoying the placid Sunday afternoon before beginning a busy work week. Her week was going to be very busy because she had just started a job selling office furniture.
She had just moved to the big city, and said that her parents were poor farmers. I had noticed that her hand was rough when I shook it, so she was probably saddled with her share of chores. Her boyfriend still lived in the country, so she was beginning to enjoy the excitement of big city life on her own.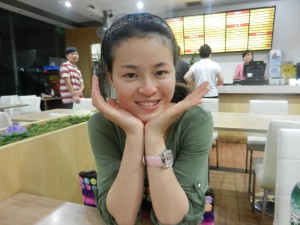 I had the pleasure of meeting several young women like her in China–eager to leave a difficult childhood and China's male chauvinistic past behind and enjoy new pleasures and freedoms in China's growing economy. Most initiated the conversation with me, and all work very hard to make whatever money they can so they can save for homes, which have become very expensive in the cities. She and most others showed a combination of confidence and class.
I wish her and all the rest a very happy and prosperous new year and life.