Yes, another Angkor Wat shot. But it bookends well with picture in the last post on Angkor Wat.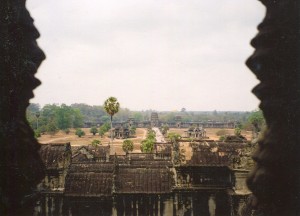 This photo looks out from the upper terrrace, over stacks of tiled roofs, and towards the western entrance. The moat that I took the previous shot from is on the other side.
In contrast with the simple forms in Egyptian monuments, most Khmer temples revel in abundance. Sadly, the time each person can spend in Angkor Wat's upper terrace is limited now. I was very lucky to be there just before the time limit, and I was able to ascend the divine mountain 7 times and savor it for as long as I wanted. One time, the afternoon breeze blowing through those elegant slats caressed me until I got so sleepy that I couldn't do anything except put my head on my backpack and snooze. When I woke up, a priest walking by looked down at me and gently smiled.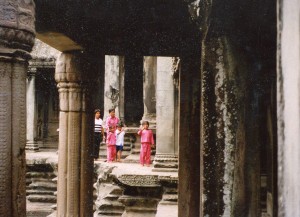 I thought the kids in the above shot didn't know I was about to take their picture. The longer I lingered at the top, the more meetings I had with Cambodians, and with visitors from countries all over the world. The elegant art forms up there are supposed to represent the abode of the gods on Mount Mehru. But the friendly Cambodians and the diversity of tourists created an equally savory human landscape. Both blended more and more as I stayed and gave me some of the best travel memories I've ever had. Even the bats (one had peed in my face) were beautiful now.