Yesterday I wrote a post about the philosophy of African music. These CD's will give you a good introductory class. They'll put a big smile on your face too.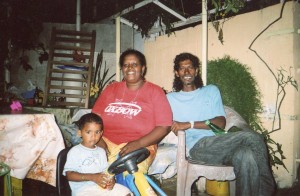 1. Tony Allen, Black Voices. Possible the coolest CD ever made. Allen was Fela Kuti's drummer for 15 years, and he founded Afrobeat with him. This is a brilliant solo album with guitar and bass lines, raps, techno and complex drumming fused into a world that you might get addicted to.
2. King Sunny Ade, Baba Mo. King Sunny is a Nigerian guitar legend and founder of the Juju style. This is a newer CD that mixes the old master with techno and break-neck rhythms.
3. Miriam Makeba, Novus Series '70. A South African legend who sang about social injustices with a voice and passion so full that she sounds like a goddess. She was exiled in America in the '60s and was adopted as a patron saint of the folk movement.
4. Olatunji!, Drums of Passion. This was the first release of pure African music in America, and it sent shock waves around the world that are still rippling. It inspired all world music movements, and Carlos Santana's "Gin-Go-Lo-Ba" (but Olatunji's version is more energetic). Don't turn "Shango" up in the car unless you want a speeding ticket.
5. Ayub Ogada, En Mana Kuoyo. This Kenyan's singing is joyful and tender, and the delicate rhythms interweave well with it. Great music for kids too.
6. The Green Arrows, Analog Africa No.1. A guitar band from 1970's Zimbabwe that could put Metallica through its paces.
7. Baaba Maal, Missing You. Back to the tender side of African music. This Fulani singer from Senegal has a very sweet voice.
8. Obo Addy, Afieye Okropong. Both tender and energetic. This drumming master from Ghana perfectly blends moods.
9. Franco, A Rough Guide to Franco. A summary of the guitar master from the Congo.
10. Bassekou Kouyate, I Speak Fula. Stringed instruments from Mali–awesome musicians.
11. Toumani Diabate, New Ancient Strings. Kora virtuoso from Mali. Very contemplative music.
12. Legends of Benin, Analog Africa No. 5. Benin had several great bands in the 1970's that mixed soul, funk, rock and traditional African rhythms. This is the best summary of the era I've found.
13. Fels's London Scene. Just one of several albums by Fela Kuti that could be listed.
14. Congotronics 2. Has to be heard to be believed–traditional music played on make-shift electronic instruments.
15. Eyuphuro, Yellela. A band from Mozambique that mixes great guitar and drum playing with soulful singing tinged with the country's Portuguese heritage.
16. Jaojoby, Malagasy. Madagascar has several fantastic stylistic blends. This CD is guaranteed to get you moving.
Which one to start with? All! Each is unique. They'll make any place twice as happy.