I saw the Eiffel Tower from an even more modern perspective when I returned to it. The previous post explains how the Eiffel Tower helped usher modern and postmodern views of the world. The second time I saw it helped me appreciate an even newer way to see things.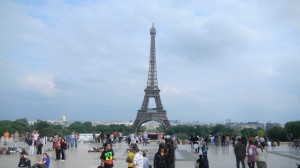 I had spent the day in the Musee Guimet. It houses one of the greatest collections of Asian art in the world. Its section on Khmer sculpture is second only to Cambodia's National Museum's. I also greatly enjoyed its early Indian sculpture (Mathuran) and early Chinese Buddhist sculpture (from the Northern Wei Dynasty). Closing time was nearing, and I had to rush through the Tibetan art, and I had to completely miss the Japanese works on the top floor. But when I descended the museum's stately steps to the street, it seemed as though I had flown all over Asia in one day.
I walked across the open area in the above photo, crossed the Seine, and ate in an outdoor cafe. I could take breaks from reading the museum guidebook and savor views of the tower looming over elegant Second Empire apartments and flower displays on the street. Paris and Asia have created infinite forms–the blends from both lands sent me into so much bliss that I don't remember what I had for dinner.
It was now dark, and I joined the crowd in front of the Eiffel Tower for the nightly show in which the building's lights simulate fireworks. Memories of several Asian cultures' art, and of Paris' outdoor cafes came up as I watched the bursting lights in a crowd of people from all over the world. Is there a better model of how today's globalized world can glitter if enough people study multiple cultures?