I knew I was heading for trouble when I entered this wat in the historic northern Thai town Phrae.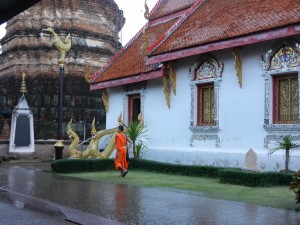 I saw that the darkening clouds were about to unleash nature's full power, but I couldn't resist exploring yet another northern Thai temple.
Sudden sheets of rain quickly turned the driveway into a river, and I ran for cover under the classroom's overhanging roof. The monk in the shot from my shelter has learned more about patience–of course many monsoons have given him lots of practice.
But I wasn't alone. The local kids chirped and laughed under the same roof. We greeted each other and hung out for as long as the rain fell.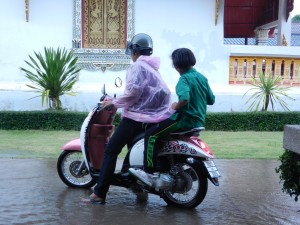 Parents braved the elements to pick some up. Any more rain might have prompted this father to bring a boat instead of a bike.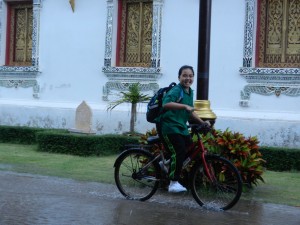 Other kids did what Thais and many other Southeast Asians learn to do so well: turn an uncomfortatable situation into fun.
In the last post, I showed ways that Western culture conceives the natural forces that renew life. As I sat at the entrance of the monastery's school, I learned some things about how Thais respond to the overwhelming powers that renew life in tropical lands dominated by monsoons:
1. Accept reality and go with the flow.
2. Bond with your family and community–help each other. Being alone in the world and missing the warmth of the community is a Thai's worse fear. The group matters the most, and people try to keep it in harmony.
3. Have fun and live in the moment.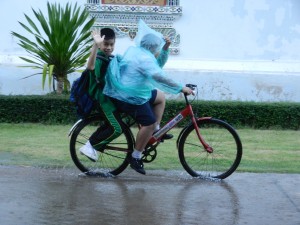 In the last post I said that many folks I've met in the Third World are attracted to the West. But lots of Westerners I've met find Thailand so appealing that they decide to move there. Both lands have so much cultural wealth that they can shine on each other in infinite ways–we'll explore more soon.