Early Cham art was vibrant–full of lively people and vegetal forms. But it was also very tasteful. It's hard to be first rate at both, but the Cham delivered.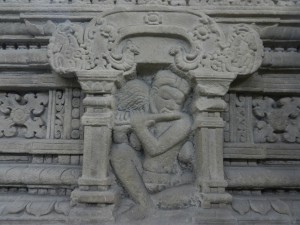 Let's step into the world of this fellow jammin' away and see why he's having such a good time.
He and many other figures enliven the pedestal that used to be in a temple (E1) at My Son in the 7th century. But this was no ordinary pedestal. It was a replica of Mt Kailasa–the mighty Shiva hung out at its summit.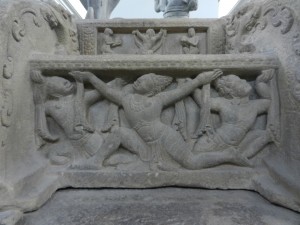 These dancers on the way to the peak are having a pretty good time too.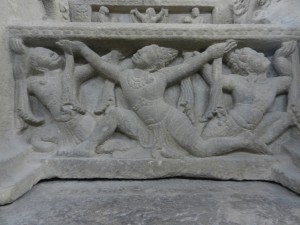 They're energized, but they balance each other very well. The scarves that they hold hang straight down, but their faces are horizontal, as they lead your gaze towards the peak.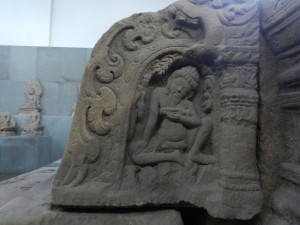 The slopes of Mt Kailasa are pretty cool places to explore too–full of forests, mystics and animals. The guy in the above shot is having a peaceful read.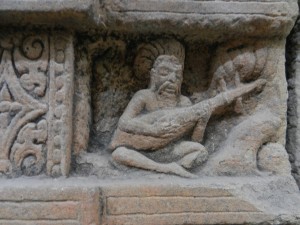 This one's playing a vina. The better-known sitar is North India's most common classical stringed instrument. The Vina is from the south. Its sound is more earthy and lush–perfect for verdant forests.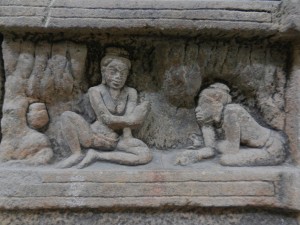 Above, a guru explains the fine points of the universe to a disciple, who listens intently.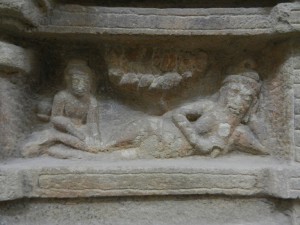 And this guy takes time out from his meditation to enjoy a massage.
So no demons or gargoyles like ones on Gothic cathedrals here. This pedestal, like Cham art in general, affirms all life-forms. Cham religious art encourages you to enjoy the world. And something I found really cool is–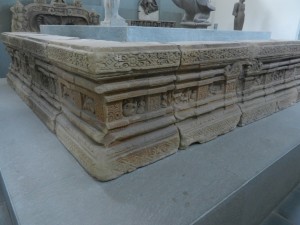 All these lively figures are on a handsome square form. Indian religious imaginations were very very big, and they envisioned mountains many times higher than any that the human eye has seen. But the Cham shaped Shiva's abode into an elegant form that's both symmetrical and human sized. They brought the vibrancy of Indian religions down to earth.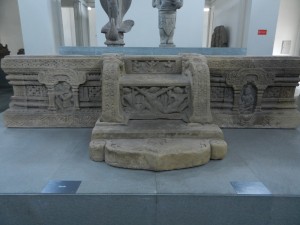 Cham art is a great massage for the senses.