I found lots of things that I didn't expect when I was in Vietnam.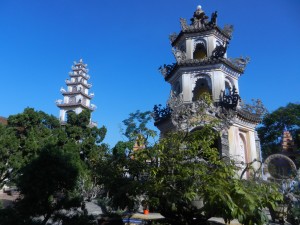 They showed me that Vietnamese culture is very special.
The Long Tuyen Pagoda is about 1 mile outside of the historic town of Hoi An. Most tourists stay in town, even though this temple's close enough to be reached in a quick jog. So I went there because it's conveniently located, yet off the beaten track. I didn't expect too much from it, but magic started to happen when I got there.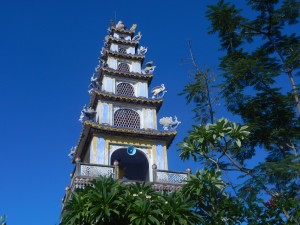 The grounds had several pagodas that were Chinese-influenced. But their soft and cheerful colors made them look more playful than monumental.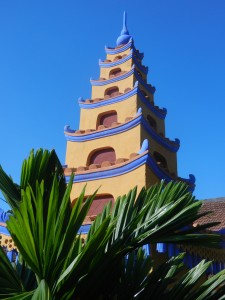 Their thin forms were surrounded by Vietnam's abundant foliage. All these forms and colors seemed to dance as I walked around.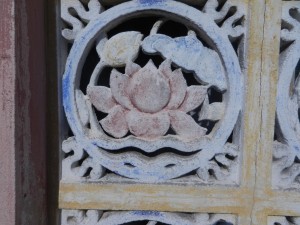 Many of the little things also had this combo of lilting forms and soft cheerful colors, like this lotus bud on the side of one of the pagodas.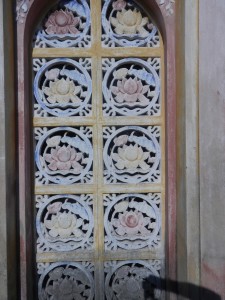 They're repeated many times on each of the building's sides.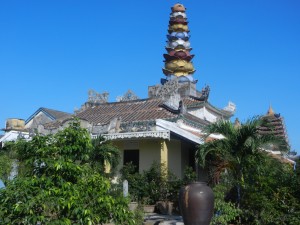 And they sprout up from the main building. The lotus symbolizes purity–it emerges from the bottoms of ponds and blooms on their surfaces. Its blossoms are unsullied by their surroundings. The lotus thus also symbolizes transformation of the soul to a more spiritual existence than the worldly muck we all live in.
The Long Tuyen Pagoda houses many local folks' departed relatives, so these lotuses symbolize people's spiritual aspirations. But the interplays of forms and happy colors are very Vietnamese.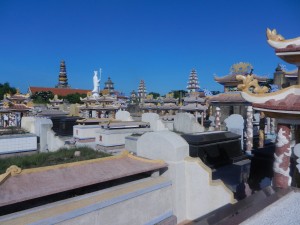 Funerals in Vietnam are huge affairs, and they're very lively. People bring as many family members and friends into them as possible–all the generations and the whole community form an interconnected whole. The art forms and natural surroundings at the Long Tuyen Pagoda make it seem that this whole is abundant and joyful–so much so that the beauty of this world is stressed as much as liberation from it.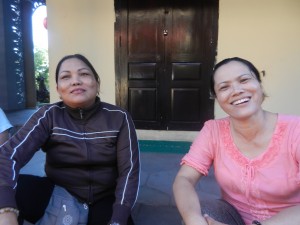 I saw these mixtures of playful forms and colors and profuse foliage in temples all over Vietnam. Nothing really big–no Angkor Wat. No Gothic cathedrals. But I enjoyed these integrated worlds full of enchantments just as much.
Sadly, Vietnam's history of foreign invaders and homegrown corrupt politicians has often made it hard to fully appreciate this artistic and natural beauty. In the next post on Vietnam, I'll share a story about political reality rudely interrupting me.