Is this the most civilized place in the world? The great British art historian Kenneth Clark wrote that many people think it is.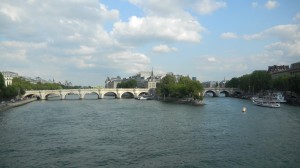 I've appreciated too many places outside the West to say that any place is THE most civilized. Such a statement implies standards that are embedded in a culture. But I wouldn't argue that it's not one of the most civilized places.
The place in question is the Passerelle des Arts in Paris. Above, you see the view from it towards Ile de la Cite, where Notre-Dame Cathedral presides. The bridge you see is the Pont Neuf, the oldest bridge in Paris, a spiritual home for many artists and writers.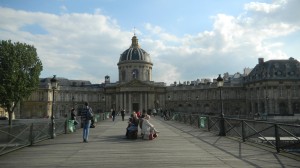 Above, you see the Institut de France, which manages about 1,000 artistic foundations. In the other direction is the mighty Louvre. In between, artists practice their drawing, and teenagers with boomboxes hang out. So in this one place, artists and great works of art converge and immerse you in more cultural patterns than any university's academic department can process. Yeah, I could see how Kenneth Clark could be entranced here, but I found that Paris' cultural life extends far beyond his Western focus.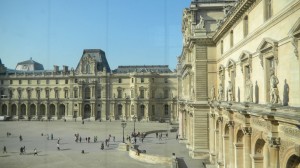 I give you an obligatory Louvre shot above. It's worth all the time you can budget–I saw everything on display over 6 days. But these three shots only give you the conventional Western perspective of Paris. This great city is being updated by a new generation that's cooler and more global than the hoary British art historian's world. We'll spread our wings farther in the next post, and see Paris from an updated perspective.