K.C. Chang wrote that dragons were venerated in China at least 5,000 years ago. Now that's continuity.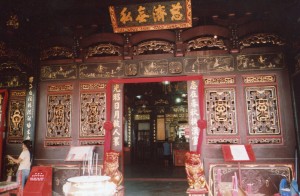 The Yangshao culture was a society of millet farmers who lived in lineage units in villages. It existed from 5000 to 3000 BCE.  A Yangshao man was buried with a life sized dragon on his left, and an equally large tiger on his right. Both were made from clam shells.
Chang, in The Cambridge History of Ancient China, wrote that this man might have been a shaman. These two animals might have helped his spirit rise to Heaven.
Large dragons constructed on the ground with stones have been found in other very ancient cultures, including the Xinglongwa and the Daxi. Chang felt that many of these dragons were also associated with shamanism.
Westerners have seen dragons as nasty, scaly, fire-breathing beasts. Calvert Watkins, in How to Kill a Dragon, wrote that dragon-slaying myths go back to at least 1500 BCE in Indo-European literature. They can be found from India to Ireland.
But Chinese have seen dragons as more helpful and less antagonistic. They represent the energies in nature and will help you if you harmonize yourself with them.
Chinese ideas of dragons seem to have been established long before large states were built. Chinese culture has had even more continuity than most people realize.
I'm 40 hours away from flying to China for a month-long journey through its cultural landscape. I'll explore its ancient heritage. I'll also carry a little guitar that fits into my suitcase, and stay in hostels for most nights. So I'll hopefully have a nice balance between traditions and the modern world. I'm looking forward to exploring China's heart and sharing it with you in future posts.