China's Song Dynasty had the Grand Canal, the Yangtze and the Yellow River to help unify it. Naples, Italy had its funicular railway. But Chinese and Italian cultures have shared some very important things to unify themselves with.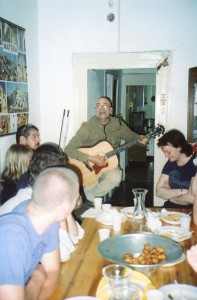 Noodles/pasta served with love. Two very distant cultures and cuisines, yet both consider these respective dishes comfort foods. Mothers in both lands serve them with love. And so did Giovanni when I stayed in his home in Naples. Nights there became some of my warmest memories of Italy.
Giovanni runs a hostel in his apartment (called Giovanni's Home. You can book it at hostels.com). He sternly warned us to be back by 9:30 each night because Naples had over 14,000 reported thefts that year. There were 16 or 17 of us, and he had us all squeeze around the dining table he opened up in his entrance room. "Sit close, we are family."
Every 3 nights Giovanni cooked pasta for us. Then he handed out papers with the lyrics to Fuliculi Fulicula–the song that glorifies Naples' old railway. He then brought out his guitar, but warned before starting, "If-a you don't sing it right, we start again."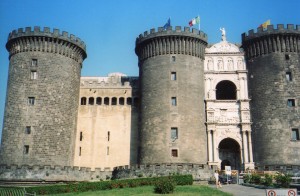 Those dinners felt like coming back to family every evening. The historical treasures in and around Naples kept me very busy during the day–museums, Greek and Roman cities and buildings from Naples' equally glorious and sad history kept me hopping enough to work off the pasta. It was a delight to return to the family's warmth every day.
I've written a lot of posts about how Renaissance Italian art has used lines and abstract shapes from the ancient Greco-Roman heritage to unify its world. I've put up about as many posts on China's emphasis on circular flows of energy. It's been great exploring intellectual and artistic aspects of these cultures, but human beings comprise societies. In all the lands I've traveled in, the happy family has been the most common value. Images of folks sharing their favorite foods during holidays and religious celebrations have been some of the most cherished.
One of the coolest things about cultural studies is people have many dimensions. We love art and ideas, but I've found that the hugs and foods are basic everywhere. People cohere through many media at the same time.
And the fleshy dimensions give people from different lands pathways to each other's worlds. Many Chinese people call Italy home, and I found their restaurants great deals–reasonably priced food that was a lot healthier than pizza. So I usually ate in the Chinese restaurant in the above photo from Venice. The Jewish Quarter was across the canal, and men in long white beards laughed it up at their tables.
Italy will have many happy blends with other cultures for a long time, and I can't wait to go back next year.
You can combine wings with your stomach and explore food in Middle Eastern culture here.