The Bayon in Angkor Thom has been called one of the world's most powerful buildings. So I'm in its inner corridors trying to get energized.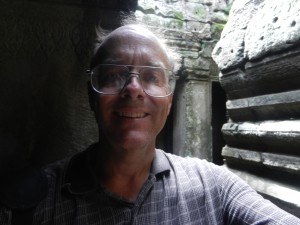 The Bayon isn't as big as Angkor Wat, but it's very complex, and it requires a lot of time to explore. We'll enter its inner reaches here.
The Bayon has an outer square wall with a gallery of sculpted scenes of warriors and everyday life. People admire it for its energetic images. But there's an inner gallery inside this enclosure, and its atmosphere is different. It takes you into a more mysterious world.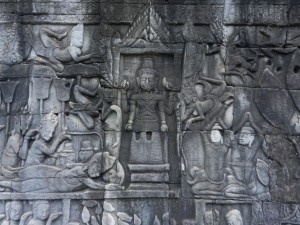 A Hindu reaction flared up in the late 13th century under Jayavarman VIII, and sculptors carved many scenes of Vishnu and Shiva in full glory. And Khmers knew how to glorify. The above scene of Vishnu is a good  example–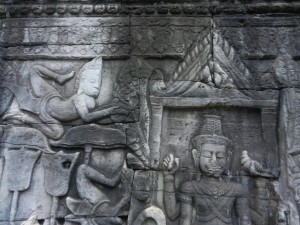 An apsara  pays him homage from his above right.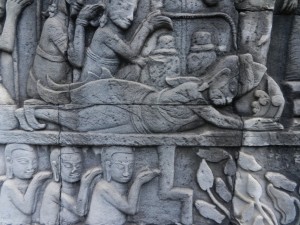 A very well-dressed person prostrates before him at mid-level, and–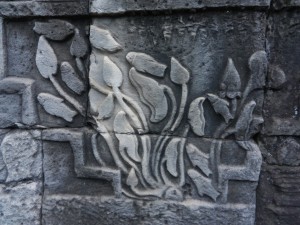 lotuses and fish intermingle beneath everyone. The Bayon has a lot of these sweeping perspectives which include all domains in the world and beyond. This artistic tradition came from India, and Khmers adapted it to their great monuments, including Banteay Srei and Angkor Wat, to represent the power and glory of the gods and the king.
Alas, nobody gave me such honors in there, but maybe I was lucky–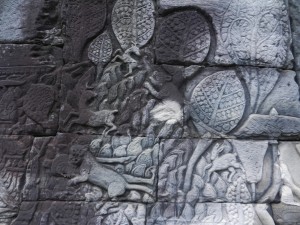 This sweeping view of a mountain forest includes a lion attacking a man.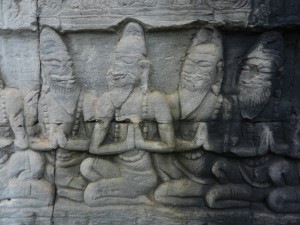 But these ascetics blissing out are unconcerned.
The Bayon's inner gallery also has scenes of soldiers and regular folks, like the Bayon's outer gallery does, but the inner area has lots of images of Hindu gods and upper-class people being honored. They're all portrayed in an environment that's both luminous and energetic. There are dreamscapes that integrate apsaras and lotuses–they would have inspired Jimi Hendrix lyrics if he had made it to this part of the world. But there's also danger, portrayed with the in-your-face action that Khmers enjoyed throughout their history. All of creation's energy seems to vibrate on these walls.
For a cool flight to another culture which thrived at the same time, you can see how Paris Notre Dame Cathedral unified the world from a Western perspective.