Athens' Parthenon is perfect. Its static lines, balanced proportions and sharp distinctness from the rock it presides on have made it a model of reality in the West. Modern scientists and engineers still admire its design–it confirms their convictions that rationality is the foundation of nature and the human mind.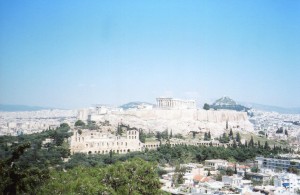 But when I stayed in a hostel in its shadow, I encountered human sides of this idea.
I asked for the check in a restaurant as soon as I finished my dinner, and the waiter–a man with a full head of grey hair–had the sourest look you could imagine. I thought about everything I had said to him and couldn't think of anything that should have offended him. But I could almost see steam billowing from his head. I thought, "I didn't do a damn thing wrong. This dude gets no tip!"
But 3 or 4 nights later, another 50ish waiter in a different restaurant looked just as grumpy as soon as I asked for the check. What the hell for?
I went back to the first restaurant a few nights later because it was the closest ot my hostel. After I finished eating, the same waiter came over and put a plate of fruit on my table. "On the house."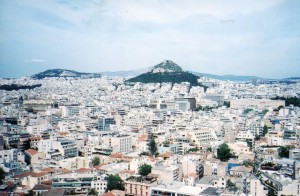 By then two men were singing next to a wall. One played a guitar and the other a bouzouki. Several couples got up and danced–all the other people in the place were Greek, and I think all were over 50. Soon, they formed a single line which snaked around the tables. When they passed me, someone pulled me from my chair. We danced around the room for a while. Then some folks invited me to their table, and we talked til 1:00 AM. The waiter patted my shoulder and said, "Bravo!"
I've been in restaurants all over the world, and I often ask for the check right after eating–I always have a full sight-seeing schedule. Nobody ever got mad when I did. It's a restaurant–I'm there to purchase and consume a product. But these two men had another model. For each, coming to his place had a deeper meaning.
According to each one's way of seeing, I was entering a personal relationship with him. By immediately asking for the check, I was rejecting him as a person. Many people I saw in Greece related to others deeply. It's one of the friendliest countries I've ever been in–like China.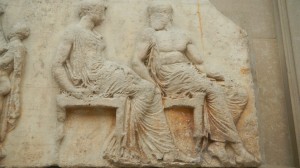 In the next post on ancient Athens, we'll find that these people's perceptions and the Parthenon emerged in some of the same cultural currents. Greek hospitality has a boatload of wealth from its ancient past. We'll find that those perfect abastract lines aren't so abstract–they have dimensions that are very human.