I was walking through a working-class neighborhood in the historic Chinese city Datong after a long day of exploring temples. I passed an apartment's doorway and heard a spirited, "What's your name?"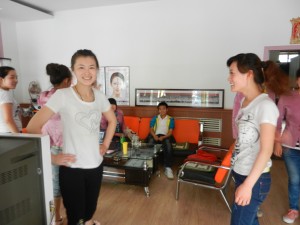 I turned my head, but couldn't see inside because the entrance and windows were covered with beads hanging on strings. I kept walking and then heard, "How are you?" I couldn't resist venturing inside.
The kids in the lobby rewarded me with a warm welcome. Throughout my trip, people took delight in human company and they were quick to take me in.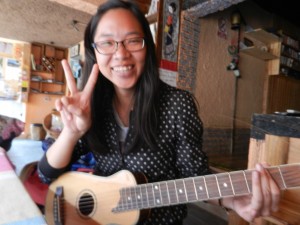 Here's an incontestable reason for men to learn to play guitar. We stayed in the same hostel in Lijiang and her face lit up when I offered to give her a music lesson. I found that people all over China appreciate music very deeply. She smiled from ear to ear as she positioned her fingers into her first chords.
She's a student in Guangzhou, and she was leaving for Tibet that morning. Many Chinese youths go there and to Yunnan. They're becoming more curious about the world, and they were always eager to talk to me.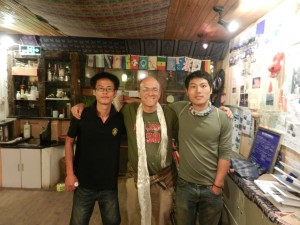 I also met these 2 guys in Lijiang. We were in a bike rental shop. We were all planning to explore the countryside, so they invited me to join them. Our adventures will require at least 4 future blog posts. After a long day we relaxed with a big dinner at a roadside restaurant.
My trip through China was full of spontaneous meetings like these. Last year I saw lots of high-profile things like the Great Wall, the Terracotta Army and the Forbidden City. This year I took a much longer trip to see many more places. But the most common thread in all these travels was the human warmth that people extended to me.
Families and communities have always bonded closley in China. I wish all the people I met prosperity and health for sharing themselves with me.